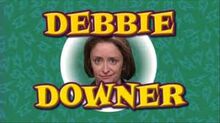 It was one of those where a lot of things went wrong for me. Yet, "Debbie Downer" wasn't able to ruin my mood - even where she had many opportunities to do so. The little headaches I had to deal with today were minor in the grand scope of things, and I didn't suffer much because of them....
- - - - - -
My cleaning lady was supposed to come today. So I made sure to set my alarms to get me out of bed by 10 am, and was ready to face the day as Marian before noon. Before I left the apartment, I stripped the bed of linens and put them in the hamper before her expected visit.
Once out and about, I did a little browsing at Lane Bryant, then picked up a couple of things at BJ's. And from there, I took a slow, leisurely ride to the GLBT center. On the way there, I chatted with the Cat Lady (for too long), then called Lili after picking up lunch at I deli I frequented when I used to work for the Bank. For about an hour or so, I worked on updates to the contents of their web site, and then I chatted with one of the directors of the center. While talking, the skies got dark, and "severe thunder storms" rolled in. It was raining like cats and dogs, and I had no umbrella. So I borrowed an umbrella from the Lost and Found box, got to my car, then finally delivered some books to the donation box.
- - - - - -
Getting back into the car at the GLBT Center, I found that I couldn't help but get wet. (Part of my dress was caught in the door.) So when I got to Panera Bread, I took advantage of the restroom
and
was able to use their hand dryer to dry off the wettest parts of my dress without revealing anything to anyone. And then I got around to having dinner.
When I got up to leave Panera, I overheard 3 ladies talking about the abuses of the Emotional Support Animal designation. So I politely jumped in, and told them some small details about my co-op's experience in this area. (I won't go into them here, other than to say that shareholders are concerned about potential abuse in this area, and that we are addressing this issue in the best interests of the shareholders.) And then it was off to game night.
- - - - - -
The weather was a deciding factor in how many people attended tonight's meetup. One of the regulars hates driving in bad weather, and she was missed. However, there was even more sad news - the host told us that he had considered cancelling tonight's meetup because L's mother had died Wednesday morning. L (the woman whose
Karaoke birthday party
I attended) had said NOT to cancel the meetup, but to make sure some strong liquor was available. L needed to relax, and with help from 1 Lemon Drop Shot and half a bottle of wine did just that.
Even though L will feel like crap for a while, I know she will be a survivor. Hopefully, I will be there to help her as a friend (and that she will accept that help). She is a good person, and I don't want her or her husband to suffer any more than normal for this kind of loss....
PS: The cleaning lady never came and I had to put sheets back on the bed in case she comes tomorrow. A minor frustration to close out the day.