Last night, we had a thunderstorm come in around 2-3 am. By the time I woke up around 11, the worst of the first patch of rain was over, with much more yet to come. At least, the rain kept the temperature in a tolerable range. The next 4 days will be uncomfortably hot and humid - making me glad that I no longer have to commute to lower Manhattan.
- - - - - -
When I got up, I had 3 things on my schedule. The first was my weekly volunteer stint at the GLBT center. Next was going to see a movie. (I mistakenly thought that "Book Club" was still playing in Port Chester.) And finally, game night in Yonkers. I only got around to two of these items - and it was just as well.
Shortly after 12, I got showered and ready to go to the GLBT center. Yet, I arrived there around 2:30, leaving me 90 minutes to work there before going to the movies. And I was tasked with some mindless activity - sealing and stamping about 200 envelopes. This was just what I needed to occupy enough of my mind to stay awake, and yet allow myself to relax at the same time. The envelopes were finished at 4 pm, and I rushed out the door in an attempt to see a movie.
Unfortunately, heavy rain started to fall when I got in my car, and I was dealing with this rain all the way to Port Chester. Arriving at the theater's parking lot, I checked the schedule, only to find out that the movie I wanted to see was no longer playing there. So it was off to the Bronx to see if a handbag I wanted was at JC Penney.
- - - - - -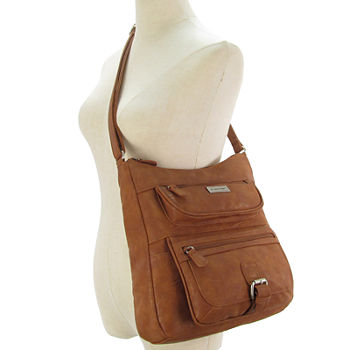 The Co-Op city shopping zone is a little strange. At the Northeast end, there is an L-shaped strip mall with clothing stores, restaurants, and a supermarket where parking is free. A little Southwest of that is an enclosed mall with JC Penney and Macy's as the two main tenants, where one has to pay $3 for parking in a multi-story parking lot. Across from the enclosed mall, separated by more free parking is a Saks 5th Ave. outlet store and a K-Mart. Northeast from there are other stores and at least 2 dining outlets, all with free parking. I parked in a free parking area next to the enclosed mall and went handbag shopping at Penney's.
I was looking for the same handbag I currently use, but this one in a shade of brown instead of black. This way, I could coordinate the color of my handbag with the color of my shoes. Luckily, the bag was available, and "on sale" for 45% off. This meant that for $33, I could get a nice leather bag with a strap long enough for me to be comfortable carrying the bag around all day. When I brought the bag to the register, I chatted with one woman who had 4 dresses with her. Of these, 2 would really look nice on her. And since she was going to a wedding in Virginia this weekend, I figured that these same dresses would be best for an outdoors daytime wedding. Once I got to the register, the computer didn't pick up the discount I was entitled to on the bag. So I had to wait until she went back to the handbag department until she had the correct pricing information, and then I walked out of the store paying only $33 plus tax for the bag.
- - - - - -
Next, it was over to Stew Leonard's to pick up a crumb cake I could bring to game night. While I was there, I decided to have fish and chips and sit on benches outside. For $8, I got 3 pieces of fish, a truck load of fries, and a refillable soft drink. Although it took a while to fry the fish, it wasn't bad. But I wouldn't order it again. Instead, I'd buy some food from the hot counter indoors, and eat it in the same area which I ate my fish and chips. After I finished my dinner, I went in back of where I was sitting and found that Stew's had some farm animals to entertain little children who may accompany their parents as they shopped. In all the years I've shopped there, I've never bothered to visit the animals. Now, I can say I have done so.
I killed some time before being the first person to arrive at game night. We played a couple of games, including one which permanently changes its rules each time the game is played. It's an interesting concept. But only if I were an avid gamer would I consider buying a copy of the game.
- - - - - -
On the way home, I decided not to wake GFJ up. She has some early morning appointments to deal with, and I know to let her sleep. Over the weekend, she'll be busy dealing with both a painter AND a tree cutter, so that she can prepare her house for sale. With 90+ degree weather expected AND the tree cutter expected to arrive shortly before sunrise, this will not be a weekend that either of us would enjoy each other's company. Hopefully, we'll be able to get together for July 4th....