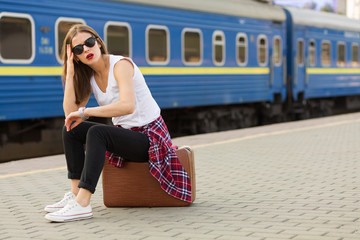 Over the weekend, the Cat Lady thought she had sprained her knee. Instead, it is likely that she has a
Torn Meniscus
and may need surgery. And this affected our plans for this week....
- - - - - - - - - - - - - - - - - -
Sunday came, and I didn't do much until GFJ arrived. If I had known how late she'd be coming from an afternoon bridal shower for a friend's daughter, I'd have gotten up early (though I was exhausted from Lili's son's shindig the day before) and gone to church as Marian before going back home and changing into Mario in anticipation of GFJ's arrival.
When GFJ arrived, she was wearing a dress, and looked good in it. Too bad that she doesn't wear them more often - she has a nice set of legs, and it's nice to see them displayed. A little afterwards, we went out for dinner at the diner - and brought home leftovers we could eat sometime over the next couple of days.
- - - - - - - - - - - - - - - - - -
Monday was a day that we'd spend apart - GFJ had shoe shopping to keep her occupied while I (as Marian) attended the Arts Westchester (AW) meeting. So GFJ ended up going shopping in New Jersey while I spent my time at the AW meeting. For once, I arrived on time. Although I didn't get an assignment for the Summer, I did get to see the woman who introduced me to the group (T), as well as a new member - my friend, former hypnotist, Pat.
After the meeting ended, I chatted a little with T and then with Pat. It seems as if Pat's daughter now has a date for an operation which may render her unable to walk. And the daughter is very afraid, as she expressed her fears for the first time to Pat. I'll be sure to keep in contact, if only because she may need a shoulder to cry on. When I went back to the car, I met a woman from AW doing her shopping at Shoprite. We chatted for a bit, but I don't expect to see her again for a long while. Coincidences seemed to be the order of the day, and would continue to be so until the end.
GFJ returned around 6, and we went out to dinner at a Mexican restaurant. She didn't recognize the place until we got inside. But we were able to have a nice, quiet, romantic dinner - which we couldn't have done if the place was busy. Later on, we decided to have leftover dessert. She noted that my air conditioning wasn't on, and I found out that the fates decided to give me a birthday present - a dead, 22 year old air conditioner. You can guess what I planned to do the next day.
- - - - - - - - - - - - - - - - - -
Both GFJ and I had things to do today. She had a yoga class to attend early in the afternoon, while I had to run to lower county to buy a new Air Conditioner. Knowing that TCL was not up to having dinner tonight (and that I had a Co-Op board meeting), I texted TCL to let her know that I knew we weren't going out for dinner until her leg healed a bit. She will likely need an operation in the near future, and if possible, I will be there to give a helping hand to a friend. So I volunteered to pick up some groceries sometime this week and deliver them, in order to keep her from having to go shopping in a wheelchair. (She has no problems with me coming over as Marian for this kind of visit.)
On the way to lower county, I chatted with both TCL and Lili. When I arrived at the store, I knew exactly what I wanted - a 14,500 BTU Friedrich AC with 220 volt circuitry that fits into a Fedders sleeve. All I needed to do was show my plastic and place the order. It took me longer to get out of Croton than to buy the AC at the store. There goes the rest of this month's money from the family homestead!
After taking a little rest at home, it was off to the Co-Op board meeting. Although I can't discuss any details of what we discussed, I can discuss one thing that frustrated me. HWV was trying to get the meeting over with in a timely manner, and HWA wanted to discuss something that wouldn't be done, by a vendor whose services we are highly unlikely to use. The best analogy to what happened would be a decision for me to drive to Albany using one of two routes: The Thruway or The Taconic State Parkway. Once the decision to take the Taconic has been made, does it make sense to discuss the tolls on the Thruway? HWV and I discussed this after the meeting, and she told me of more "battles" we may have to fight in the near future. I, for one, am very grateful that we have her services on the Co-Op's board of directors.
To close out the day, I took advantage of a coupon from Boston Market which gave me two meals for the price of one. This was perfect, as I could finish up Sunday's leftovers for lunch tomorrow, and tonight's extra meal for lunch on Thursday. I'm grateful to be able to avoid cooking anything in a room without AC this week.