Atlantic City. Most people think of the Glitz and "Glamour" of the boardwalk there. But I think of the city that is mostly dead on the other side of Atlantic Avenue. Walk a couple of blocks away from the Boardwalk into a residential district, and you find an area which in its better days had already seen its better days long before that. People with the skills to leave have already left, while those without skills are stuck there without much hope.
- - - - - -
On Friday, GFJ had a meeting at her office to discuss the sale of the building in which her business resides. Although there is a contract out there, there are items which must be addressed before the final signatures are affixed to that document. Since the sale is her highest priority, our trip to AC was delayed until she could drive to my place from her home in the Shawangunks.
Around 1:00 pm, GFJ arrived at my place. We packed my bags into the car, and headed to AC via the Garden State Parkway - encountering each and every early Friday night rush hour traffic jam on the way to AC. Yet, even with these jams, we made it to AC by 5:00 pm, only to encounter a long line to check in to the hotel at the Tropicana.
While online, I saw the above young ladies waiting for their friend to finish their check-in process. They were attending a Japanese Anime convention being held elsewhere in town over the weekend. (We would see many like these three during our stay at the Trop.) When GFJ got to the head of the line, we were told that the only non-smoking room available in the West Tower was a handicapped accessible room with a walk in shower. So we said Yes (a mistake) and went up to our room.
The shower in our room looked much like the above room (but with not nearly as nice a vanity). If you had to use a wheelchair and sit on the bench to take a shower, it would be almost perfect. (You'd still wish for better tools to get you from wheelchair to bench and back.) But for everyone else, there is a major problem. Water did not drain well. Not only did the small drain in the center of the shower area not handle all the water coming out of the shower head, but the second drain in the center of the bathroom failed to do so as well. This meant that the bathroom was flooded each time GFJ or I wanted to take a shower. One reviewer of this hotel said the following:
Be careful about rooms. Nonsmoking room smelled of smoke and triggered asthma attack. Our handicap room (which we did not request) had the weirdest shower - handheld only and no lip on shower so water rolled off and onto bathroom floor - very slippery - and odd - we made a dam with towels the second day - still had a flood. The beds were comfy, very quiet. Downstairs were casinos, Starbucks, shopping, restaurants - very convenient. And right on boardwalk. Would stay again but not in that room.
GFJ and shared the same opinion about that room. We also tried the towel damming routine with similar, but better results. One needs at least 4 towels to do a good job - the first to provide no-slip traction on the metal strip separating the shower area tile from the main bathroom tile. The other 3 towels are to be used to route water away from the rest of the bathroom and into the drain in the center of the room. (As we left the hotel on Sunday, one of the bell hops said that all of the handicap accessible bathrooms have the same problem, as they were poorly designed and constructed.)
Luckily, the rest of the room suited our needs, and we decided to stay there for our Friday, Saturday, and Sunday night stays.
- - - - - - - - - - - - - - - - - -
Saturday morning came, and we decided to drive to Philadelphia to visit the Barnes Foundation Museum. I've wanted to visit this place for years, but never had the chance to go to Philly on my own, or to take the time to visit on the other two times in this city. After a leisurely breakfast, GFJ and I decided to risk getting rained on and to to Philly for part of the day.
GFJ and I spent an hour driving from AC to Philly, and found it easy to get legal parking near the Barnes Foundation Museum. Although the price to visit this museum was a little steep, I found it worth the $60 we spent on our visit. GFJ and I viewed an exhibition comparing the paintings and films of father and son Renoir - and I found this to be the best part of our visit. Once done with this exhibit, GFJ and I viewed the permanent collection of the Barnes Foundation, not understanding its curator's method to his madness in displaying his collection. (Look at the metal work above the art and see in that metal what Barnes saw in the 1, 2, or 3 artworks below it. Barnes wanted to trigger discussions about the art in his collection.) Only when we stumbled into the docent (above) did we start to understand Dr. Barnes' reasons for displaying art the way we did.
A good percentage of Barnes' collection was made up of Renoir's paintings. By the time GFJ and I left the museum, we were able to identify his paintings by style alone. (Barnes was a patron of Renoir before his work became as valuable as it is today.) The one artist who threw me for a loop was Toulouse-Latrec (below), as I was unfamiliar with his work on canvas.
If you get the chance to visit the Barnes - do so. As much as I can argue against the movement of his collection from Philadelphia's "Main Line" suburbs to the city proper, we'd never have been able to visit this collection if it were located elsewhere. Shouldn't great art be accessible to all, instead of hidden away in private collections?
On our way out of the Barnes, we saw the main hall was being set up for a wedding reception. It's nice to know that the museum can support such requests (and make money from them). Today's museums need as many funding sources as possible, and with the current administration in Washington, government sources are under attack. So please support your favorite museums both by visiting them and by making donations for their continued existence.
- - - - - -
It started to rain again on our way out of Philadelphia, and we decided to eat at a chain "Italian Style" restaurant on our way back to Atlantic City. Unlike some chains, this one served a good meal at a reasonable price. So we were fortunate not to need to eat when we got back to the hotel, as the last thing either of us needed was another visit to the buffet.
So we walked along the boardwalk for a while and watched the above animated display projected upon the facade of the AC Exhibition Center on the Boardwalk. And then we walked back to the
Tropicana for its fireworks display
. After this I retired for the night, wile GFJ played the slots. I figured that she was blowing through another $100-$200 she had saved up for gambling (I've never asked her how much money she gambles when in AC, but each of the 2-3 times we've stayed there, our rooms have been comped to us.
However, I was pleasantly surprised when she came back with the above stack of bills. It seems as if she hit the big jackpot on one of the slot machines, and she couldn't reach me (to escort her from the gaming area) as her cell phone's battery was dead.
- - - - - - - - - - - - - - - - - -
Sunday was the day of the big bicycle race - Philly to AC. And luckily, we were asleep when most of the bicycles were blocking traffic in AC. Yet, we did have the chance to see some of these people arriving at their destination.
But what surprised me most was that on a cool and overcast day, people were still spending time on the beach. Our walk along the boardwalk took us past one defunct casino, and a second casino (both formerly associated with the same corrupt individual). The first property was improved by removing his name from the facade. The second property was improved by removing this fellow's ostentatious displays of false status, then rebranding the property as the Hard Rock Cafe (and Casino). Instead of walking back to the Tropicana, we took the jitney back to our hotel. In the jitney, one of the riders (a resident of AC) told us about how this former casino owner helped to destroy AC by not paying his vendors. (This would not be the only time on this trip that someone would besmirch this scoundrel's reputation.)
We both fell asleep for a while, and we ended up eating at one of the few restaurants open at the hotel at 9:30 - Hooters. As expected, they served forgettable food - making both of us wish we had gotten moving an hour earlier, so that we could have had our choice of restaurants.
- - - - - - - - - - - - - - - - - -
Monday was check-out day. So we packed our bags and moved our car (with luggage) to the Tropicana's self park lot. Why? We wanted to try out the Trop's lower tier frequent gamblers' buffet. And I was very disappointed by the lack of variety. If I had known better, I'd have suggested that we go to a nicer place for lunch. But a comped meal is a comped meal, so it was worth the effort of moving the car from one lot to another.
We then headed over to the Borgata. Of all the Casino/Hotel complexes I've stayed at (or visited) in Atlantic City, I enjoyed their "Water Club" hotel most. There is a simple elegance which makes this place worth the effort to visit in this section of town. Although our room did not have a view of AC, I found that a view of the bay at sunset was very relaxing.
Like the Trop, the Borgata comped GFJ her rooms for a 2 night stay. Unfortunately for me, she didn't gamble enough after the expiration of her "Black Card" to get comped a weekend stay there. Even more unfortunate was that she had none of the benefits of her former Black Card level, and this prevented us from going to the dining room where we enjoyed our last nice dinner at this complex.
Instead of eating a nice dinner, we grabbed a couple of sandwiches and played Bingo with two cards comped to us by the casino. I can see why my grandmother was addicted to this game at the local RC church, and see why I'd never pay to play this game - it is very anti-social once numbers start getting called.
- - - - - - - - - - - - - - - - - -
The next day, I didn't want to get up early. So, GFJ swam alone in the Water Club's Spa's pool before the spa opened. (This is a nice perk for those staying at The Water Club.) So we ate a late breakfast at a restaurant on the other side of the complex. (I've been getting in a lot of walking this weekend.) And then, GFJ went swimming for a second time in the main pool while I stayed up in the room trying to take a nap. (I was unsuccessful.) While she was in the pool area, she met a second person who had a lot of bad things to say about the scoundrel mentioned earlier in this post.
- - - - - -
We made one mistake. Comped tickets were waiting for us at the theater, but GFJ made a bad assumption about when the comedy show would start. Not knowing for sure when the comedians would start performing, we caught a quick (but overly filling) lunch and both of us took naps. We figured that we'd see the comedy show at 7:00, and then have dinner at a nice restaurant (either Wolfgang Puck's or Bobby Flay's) afterwards. (GFJ wanted to celebrate winning her stack of bills, and was treating.) Well, we ended up having an even more filling (and expensive) dinner at Wolfgang Puck's at 6:30. As much as we both hated how bloated we felt, the meal was well worth the price charged for it.
- - - - - -
Then, it was off to the comedy club. Both of us were a bit sleepy due to too much food. So I was fighting to stay awake for the show. As usual, none of the comedians got me to laugh, although I smiled a little. Is this an indication of depression? It could be for many people. But I once discussed this with my former therapist, and I got to believe that it takes a lot to get me to laugh. The punch lines should be totally unexpected, social norms must be twisted a little, and there has to be a touch of the absurd in what brings laughter to me. And I've found this in people such as Groucho Marx, Rita Rudner, and George Carlin. (You can easily guess what I see in Charles Addams' work.)
- - - - - - - - - - - - - - - - - -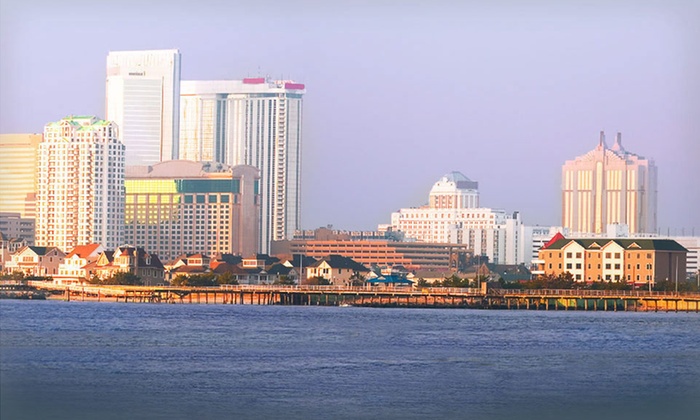 Wednesday came, and GFJ took her last swim in the Spa's swimming pool. As much as it might have been a nice day to talk a walk along the Boardwalk, it was time for both of us to drive home. So we grabbed a last breakfast at the Borgata and started our drive back to New York with a wrong turn. GFJ missed the exit for the Atlantic City Expressway and we had to take Route 30 to get to the Garden State Parkway.
While driving home, Lili called. She was a little nervous because her family homestead sale was finally being closed, and she wanted to talk. I had to cut her short for a while, as GFJ and I wanted to pick up a quick lunch before coming close to NYC. Once we reached my apartment, GFJ came up for a minute, and we parted until the coming weekend. Both of us had a nice time, and one of us has a little bit more money in her pocket because of this trip.