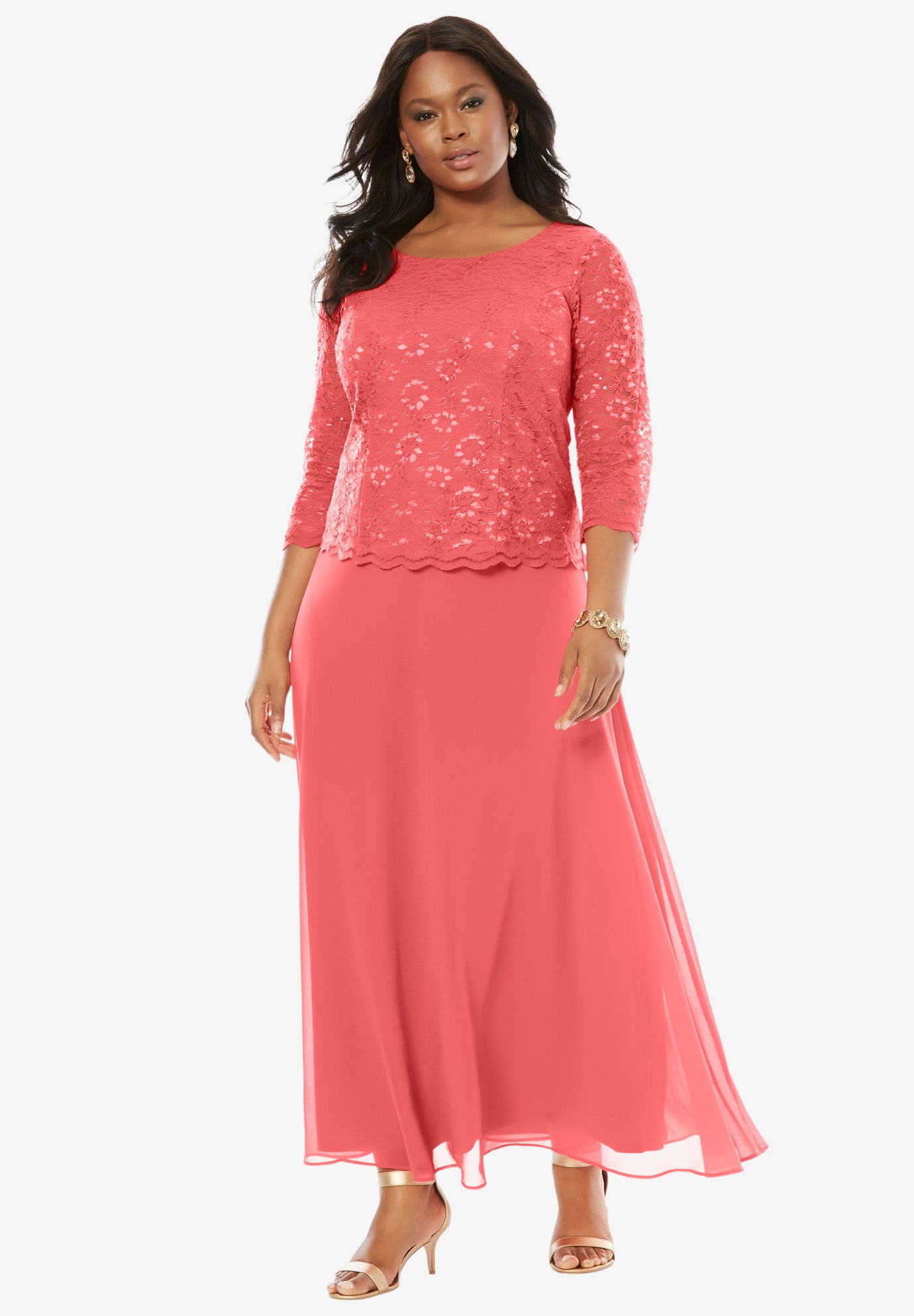 Lili's son's wedding is in July. And assuming that the dress above fits, I'll be wearing it to the wedding. The ceremony will be outdoors, but the other festivities will be indoors. So this dress may be the perfect compromise between Lili's style and mine.
Sometimes it pays to buy a garment once it becomes available, and sometimes it pays to wait a while. One may run the risk of losing out on a good bargain. But the opportunities to save money are important when living on a fixed income.
Here is the original "undiscounted" price from Roaman's:


Lace Popover Dress
price: $129.99

(If bought through Amazon's site, the price is higher, but shipping is "free".)
And here's what the dress sold for on Roaman's site after applying the discount code:


Lace Popover Dress
price: $77.99

(Discount of 40% applied here, using code from Honey or Retail Me Not.)
Finally, after the cruise, buying the same dress from sister site Full Beauty

:
Lace Popover Dress
price $56.99

(An even greater discount was applied using a code from Retail Me Not.)
You can guess which price I paid for the dress. However, this leaves me with a problem - I still need to buy a pretty pair of shoes that fit
and
a clutch in which I can carry my lipstick, keys, identification, and some cash for necessities. So far, I have narrowed down my search to the following pair of shoes:
Hopefully, they will fit well - at least for the day I'll be wearing them. (I'll be sure to carry a pair of flats in the car, just to be safe.) Next, comes the clutch. This will be an easy choice, as it only has to look good for the short time I carry the necessities in it. And here, I've found something simple, elegant and inexpensive for that day:
Of course, things can and do change. But once I pay off this month's expensive bills (I'm expecting a high car repair bill), I'll be able to think of the upcoming wedding. And then, there is one more question I have to ask - how much money should I give as a wedding gift?