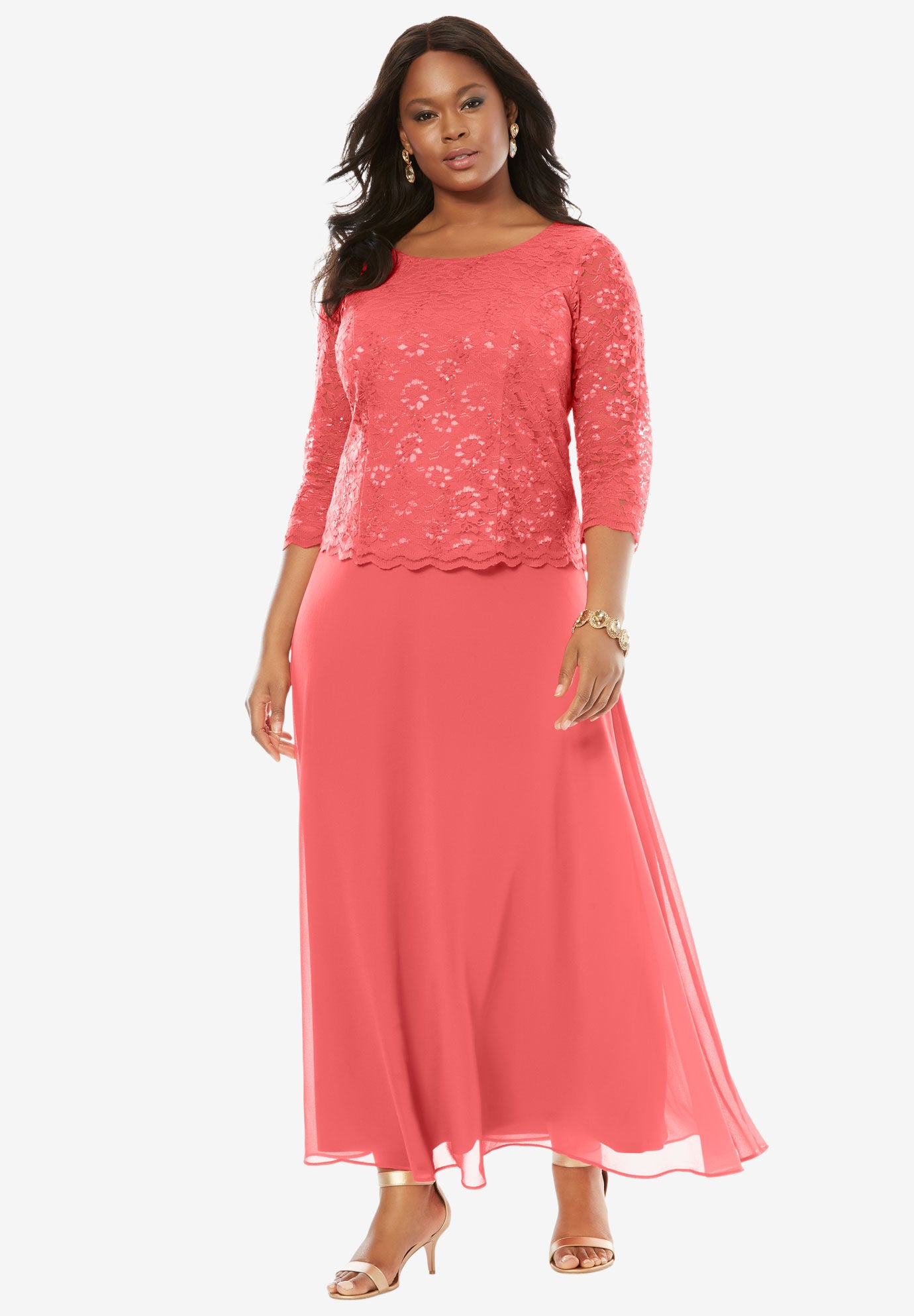 My car's mechanic appointment forced me to be up early, and the expected later arrival of my cleaning lady insured that I'd be in Mario mode all day. This meant that I couldn't use the day to get a mani-pedi until both my car was back from the mechanic
and
after my cleaning lady was finished doing her magic. About the only thing I could do is straighten up the apartment a little, do some laundry, and continue looking for a dress to wear to Lili's son's wedding.
- - - - - -
I may have found the dress I'll wear the wedding. It comes in 4 colors, and I could have it in Baby Blue, Coral, Champagne, or Navy Blue. Even though Lili says that she likes the Baby Blue, I don't think it would work well on me. So it's either the Coral or the Champagne colored dress that I'll wear to the wedding. Now to make sure that I get it in the right size and at the right price.
Here's what the above dress sells for before applying any discount:

Lace Popover Dress
#0503-04687-9999
color: sunset coral
size: 30 w

(I prefer to err on the side of comfort - I may consider going up to a size 32w..)


Availability: In Stock
price: $129.99

(If bought through Amazon's site, the price is higher, but shipping is "free".)
And here's what the same dress sells for after the maximum discount has been applied:
Lace Popover Dress
#0503-04687-9999
color: sunset coral
size: 30 w
Availability: In Stock
price: $129.99

(Discount of 40% applied here, using codes from Honey or Retail Me Not.)
TOTAL: $77.99
(Before shipping and handling is applied.)
It's a big difference. It certainly doesn't make sense to trust that Amazon will have the best price on any product when the same product can be bought directly from a vendor with extra discounts which can be applied to the sale. Yet, I will use Amazon to identify the range of items which fit the scope of my search, and then see if I can get a better deal when it pays for me to search for one. In this case, an approximate $50 savings more than justifies the time I took to buy direct from the store's own website.
- - - - - -
The cleaning lady came and we chatted for a bit. I rarely get to see her, as my schedule has me being away from the house on Thursdays. But today was different. My car was in the shop, and I had nowhere to go. She mentioned that I should get a new vacuum cleaner (they do wear out now and then) and recommended a brand. If the slot machine's scantily clad ladies decide to dance for me again, I'll be sure to buy a new one on my return.
A little while after she left, I got a call from my mechanic. The car was ready. They didn't charge me for swapping my fuel injectors, trying to rule out this cause of the problem I've been having with my car. So after I picked up my car, I decided to call Lili, then GFJ to touch base for the day.
Both Lili and I didn't want to bother getting our mani-pedi's today, as the weather was way too raw. So we agreed to get together for lunch, and then to get our nails done. I'll be sure to make sure to get mine done in a candy apple red, so that the polish I'll be bringing with me can be used to fill in any worn spots.
Next, it was a long chat with GFJ. She had gone to Connecticut to bring her mother to the doctor, and then had problems at work. So after taking care of half the business she wanted to take care of for her mother, it was a rush to Newburgh to pick up some stuff stuck in shipment at UPS (I can't go into details here) and deliver it to its final destination before an arbitrary expiration time.
- - - - - -
After my chat with GFJ, I drove home and changed into Marian Mode. Then, it was off to game night with the Vietnamese candies that Lili gave me towards the end of last year. (They didn't go over that well with the crew, so I'm glad that I also brought a package of Oreos for people to munch on.) Another new woman came to play games, and I hope she will show up again soon.
When I started the car to go home, the idiot lights came on again with a rough start to the car. I'll call my mechanic in the morning to make an appointment, and hope that this time he has enough information to solve this pesky riddle with my car....
PS: Would you believe that after the cruise, I snagged the dress for only $56.99?