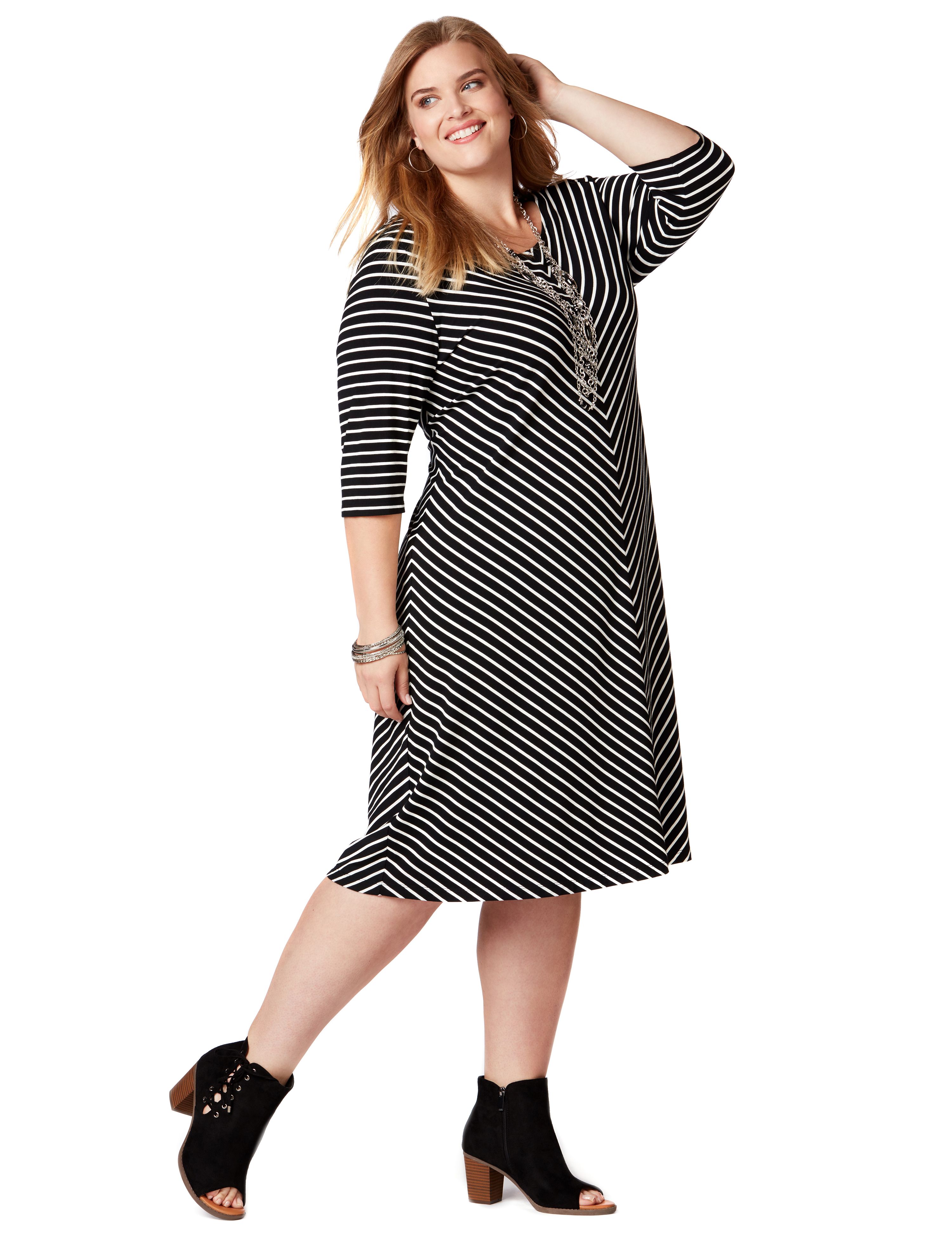 If they had this dress at the Paramus Catherine's tonight, I'd have tried it on. I love the look of the model wearing this dress with a denim jacket and sneakers, and that's the kind of casual dressing down I love doing with a nice dress.
My original plans for the day were to have a light bite to eat with WDJ, and then have dinner with Sherry. It's been ages since I've seen WDJ, and it's been even longer since I've seen Sherry. So it would have been a great day to catch up with both of them. Unfortunately, WDJ emailed me to let me know that someone screwed up her schedule for the day (reason not being disclosed here). Therefore, lunch was out of the question. Later on, Sherry texted me to find out whether we were on for the night. And then she wimped out an hour later, claiming she had a stomach bug. (I could be a little sensitive here. But if she was unsure or not interested, she could have originally texted me to say she had a bug and asked to postpone.) As a result of these two cancellations, I had a free day and a free evening to use as I pleased.
As usual these days, I decided to watch TV during the day and relax. It's cheaper than going out and spending money and it's much less taxing on my car. But I was going stir crazy from being at home (excepting the co-op board meeting) since Monday morning. So I decided to cross the river and drive down to Catherine's in Paramus.
Sadly, when I went into the store, I found that this Catherine's did not have the dress in stock. So I will soon have to order it online (if there is a clearance bargain) or do without. And then, I went to The Avenue at the nearby mall, and found nothing of interest. If they had one of the dresses I liked in my size, I'd have tried it on in a size 30.
Unfortunately, they did not have the above dress in Paramus. So I'll have to go back to Co-Op City or Yonkers to see if they have this dress. I probably will hold off on buying the dress, but I want to see how it fits....
Next, it was off to Target in Rockland County. They rarely (if ever) have anything in my size worth trying on. But I was there to pick up sundries such as flushable toilet wipes, baby powder, and other minor sundries. Less than $20 later, I was out of the store.
On the way back to Westchester County, I chatted with GFJ for the second time today. She is trying to reset her sleep/wake clock in order to get a more complete and restful sleep. After a bit of angst, her sleep doctor has given her some advice on how she might get more sleep each night. Hopefully, this will help her - even though it makes it harder for us to chat late in the evening. And then, it was off to Walmart.
Once I arrived in Walmart, I stumbled into one of my favorite people there, M. She was busy and couldn't talk much. But we found some time which she might finally be available for coffee. And if our schedules work out, we'll finally have that cup in Peekskill. Then it was back to my shopping mission. I ended up buying several large jugs of Snapple Iced Tea that I drink as if they were water, and then bought a cheap nightgown to replace one that fell apart a week ago. And again, I walked out of the store with less than $20 damage.
One of these days, I'll have to start getting up earlier than I do now. Hopefully, I'll be wide awake tomorrow morning when Maria calls, as it will be nice to catch up with her again.