Years ago, Mad Magazine had new lyrics for old songs. One of them went,
"Though April Showers may come your way,
They bring the Plumbers for Floods in May."
After 50+ years, I still remember that one line, and it came to mind for two reasons:
A severe thunderstorm warning that lasted most of the day.
A newly discovered need to replace the wax ring in my toilet.
I don't know which is more annoying - the thunderstorm or the need to replace the wax ring.
- - - - - -
When I got up, my plans called for me to meet with Ex-GF-M for lunch, and then to buy a bra or two at Catherine's in Paramus before (possibly) meeting the Cat Lady after work. But this changed when Ex-GF-M sent me a text, telling me that due to the severe weather, that she didn't feel safe in going out. (I can't blame her, as the rain was coming down in buckets when I replied to her.) Although she wanted to reschedule lunch for later this week, I had no time available. The only time this week I could have considered having lunch with EX-GF-M was already penciled in for YGM (who was visiting Yonkers tomorrow). So we postponed again for sometime in the coming month.
I decided to relax a little, and then sorted out female clothing from my storage containers. Some garments, such as a two piece dress that BXM bought for me, went into the charity pile. Others, such as my cold weather gear, made their way into storage containers, while warm weather wear made it into my closet. This way, I have enough clothing available that I can use on my upcoming cruise.
This was the first time that I dressed en-femme for a couple of days, and I made sure that I was properly shaved and made up before leaving the house at 4 pm. The rain wasn't coming down hard, but I expected to hit rush hour traffic crossing the Tappan Zee Bridge - which I did. The traffic delayed me a bit, and I didn't reach Catherine's until 6 pm. On the way there, I had a conversation (via texts) with the Cat Lady, and found out that she really wanted to go straight home after an exhausting 2 hour drive - and I couldn't blame her. Hopefully, she'll get the chance to meet me in Marian Mode soon, as I would like to know whether she can accept me this way, or merely tolerate me this way.
- - - - - -
Once in Catherine's, I changed my purchase decision. Instead of buying two bras from the clearance rack, I decided to splurge and buy 3 from the "full price" rack - and spent twice as much money doing so. I was surprised while there. This is only the second time that I've seen a male working at a women's clothing store. (If I wanted to work in retail, I probably could get hired as Marian. But I'd hate standing on my feet all day.)
After Catherine's, I decided to go to the Garden State Plaza mall - if only to walk around a little and get a bite to eat without getting rained on. I figure that I walked about a half hour, and if I continue doing this on the cruise, I could actually build up some stamina again. Next, it was off to Target, where I bought some makeup. Then, it was across the river and on my way home.
I figured that I'd take a detour to Mt. Kisco to see whether the dress below would look good on me.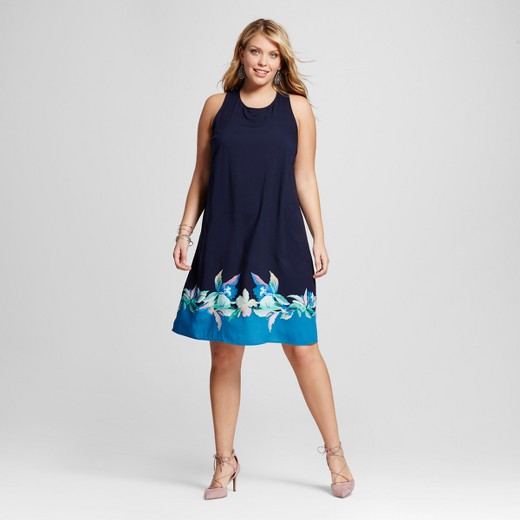 Sadly, I didn't find the dress there, as it might have already sold out in the stores. (I'll try it on if I see it in my size on a future visit.) But I did find another dress that I liked, and though it might be a little too delicate (the fabric is thin, and would be very comfortable on a hot Summer's day), I'd wear it anyway, as I think it looked good on me.
What do you think? The one review I have read noted that the arm holes may be a little too big, and allow the bra one is wearing to show a little. This is true. But it is a minor faux pas that can be accepted on days where the weather is sweltering hot. I felt like I was wearing nothing but my underwear and shoes when I wore this dress. So it came home with me, and may make it into my suitcase for the cruise.
- - - - - -
At this point, I had to go home. And when I arrived there, I responded to messages from a couple of women from Plenty of Fish. One lives more than an hour away in Jersey, and will likely not be practical for me to date. The other is a chiropractor who lives nearby, and could be a good match. Only one problem. If I hit it off with either lady, when (and how) do I reveal my TG nature safely?