I'm not sure if Lili is right in regard to the navy blue in the blazer clashing with the aqua in the dress I am wearing in the photo. But I will agree with her that I am both wearing the wrong color shoes, and the wrong type of shoes. (I should have worn brown heels. But I was lazy and running late this morning.) Now if only I had some hips....
- - - - - -
Unlike yesterday, I made sure that I tried to get some sleep before an 8 am wake up call. (Actually, I set several alarms to go off at the same time, forcing my brain to wake up enough to want to get moving.) Once moving, I got showered and dressed in the above outfit, and out the door to see Maria at the Red Line Diner in Fishkill.
For a change, both of us arrived at the same time, on time. So, we quickly got seated and proceeded to chat. Maria talked about problems with her daughter and grandson, and almost broke into tears when she mentioned her lack of success on one front. Then, she talked about an ongoing problem she was having with her dad, and about the "progress" on that front. Maria has a lot on her plate, and I don't know how she juggles all the balls she has in the air. Thankfully, her husband is not part of the problem right now. As we left the diner, she took the picture above and made it a point that we should try to talk to each other on a weekly basis.
If it were any other day than a Monday, I'd have gone to Curvy Consignments Plus to do some browsing. Instead, I decided to go a little bit further afield and visited Catherine's in Poughkeepsie. There, I spotted a white dress (below) that I'm thinking of getting. Hopefully, their next "xx% off" sale will come before their supply of this dress runs out, as I am not going to spend more money than I want for a "buy 1, get 1 at 50% off". I'd rather get the 25% "discount" up front.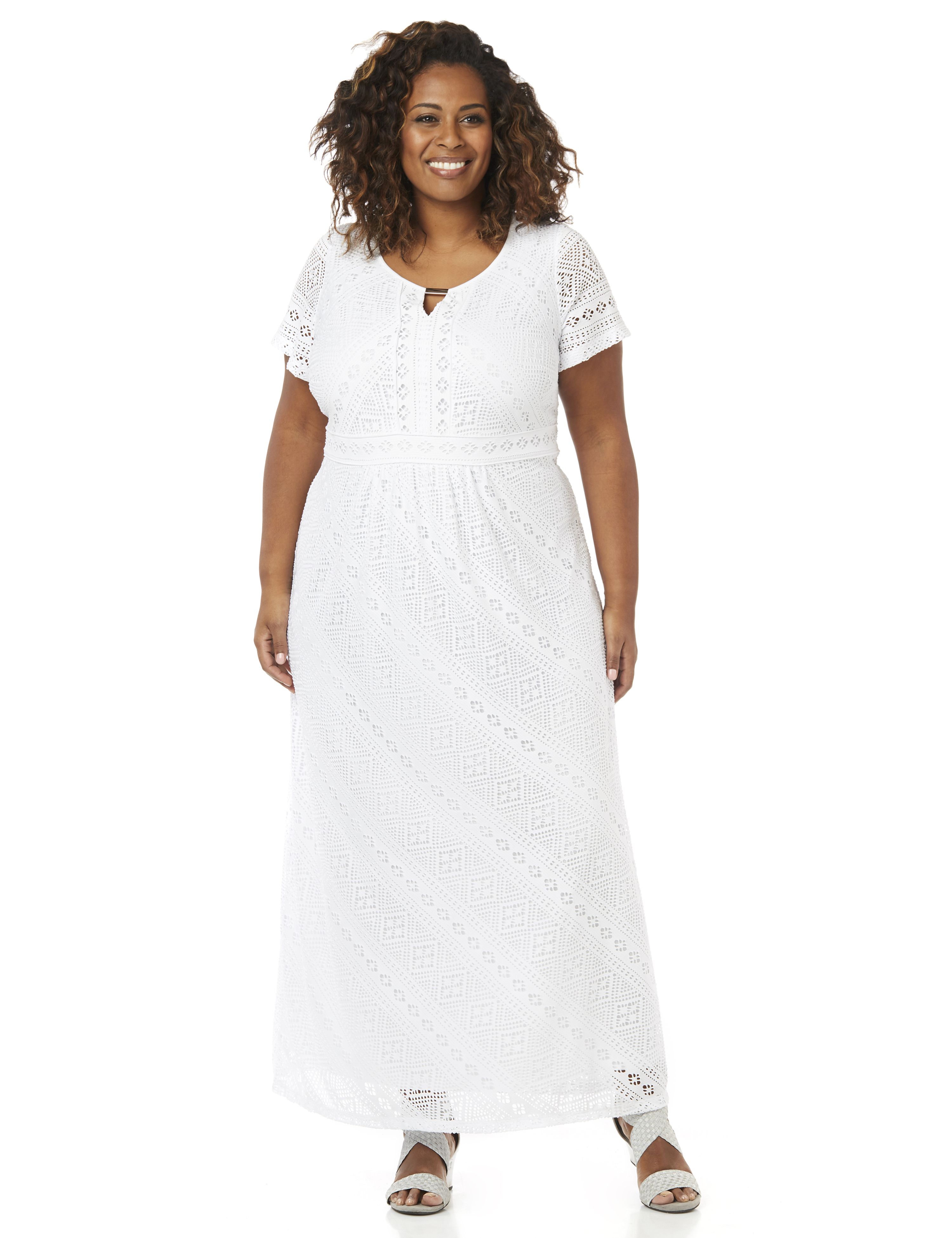 Next, it was off to The Avenue in Newburgh to do some browsing. Since it was before 5 pm, I knew that DD would not be there. But I could get in some browsing, and maybe try on something as well. Well, I tried on the two dresses below, and might have bought the one on top. But the dress on the bottom looked a little too washed out given my skin color.
What do you think about these dresses? However, I'd have loved to try on the dress below, as I know the color (navy) would work for me.
The only reason I might not buy it is that I already have enough blue dresses, albeit, not a navy blue dress.
- - - - - -
After I was done with my window shopping, it was off to see Lili. She was coming from an appointment with her nutritionist, and was told to expect to see her weight loss slow down. This was not easy for Lili to hear, as she wanted all this hardship to result in a "Size 10 body." Before we met, I had to kill an hour at Barnes and Noble. Luckily, it was close enough to the diner we were to meet at, that when she called to tell me she was on her way, I could still get there before she did.
We talked about many things over our late lunch, but most important was Lili's desire to go on another cruise. Now that I don't have a good excuse, we may end up taking another cruise soon. She wants for me to buy the white dress from Catherine's - and I may do so if it goes on the right kind of sale.
- - - - - -
Eventually, it was time to leave - and I went home. Although I could have gone out again, I decided to rest and get back to studying for my PMP class. Hopefully, I'll get my two chapters done before Wednesday's class.
PS: I did buy the Navy Blue Dress with White Grommets.....