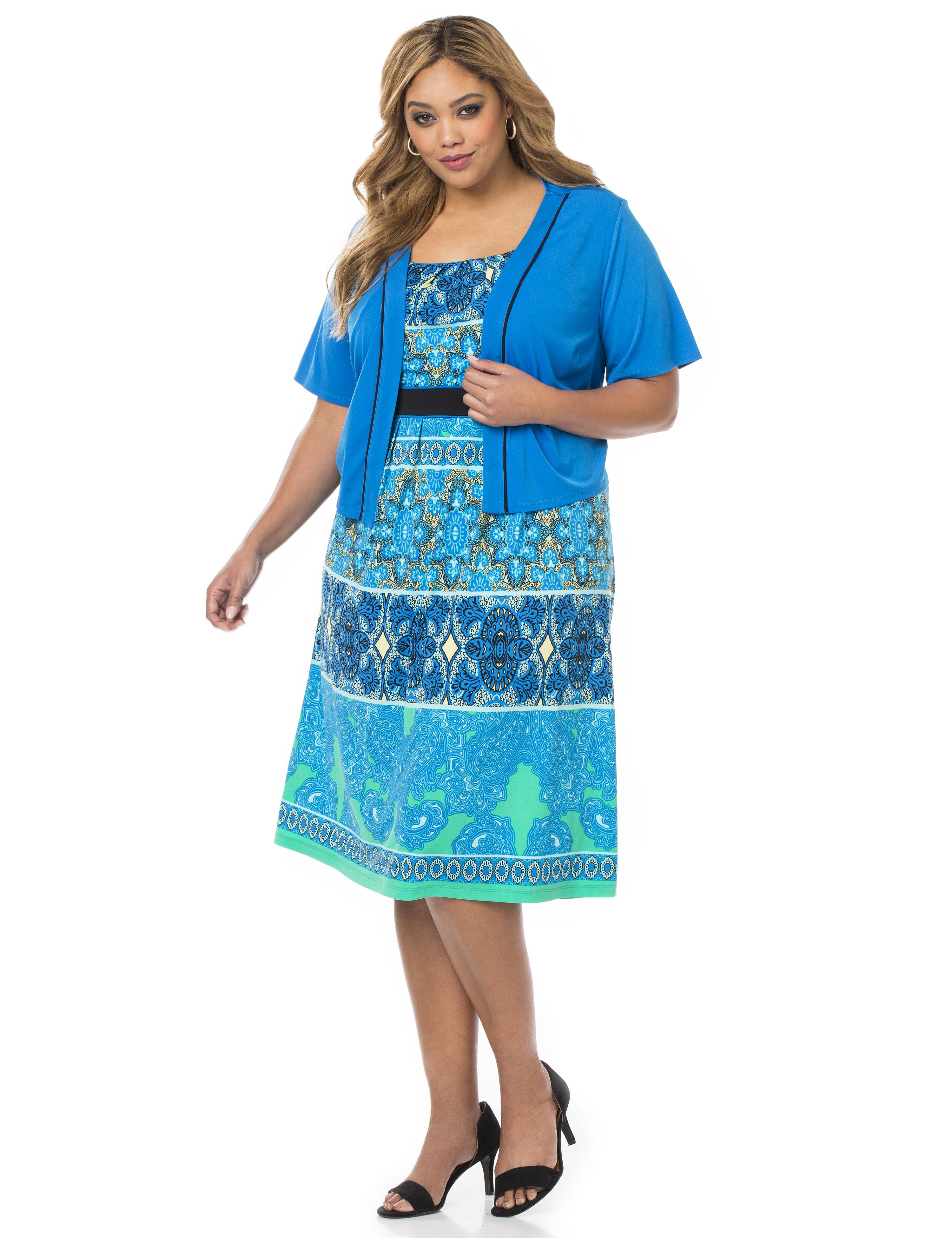 I got up very late (even for me) today, and spent most of it doing nothing. (Surprise, Surprise, Surprise.) And when I finally got moving, there wasn't much time for me to be Marian before a stretch of days I had to spend as Mario. So I decided to take a drive to Paramus, where I could do some window shopping at Catherine's and at The Avenue.
When I finally made it to Catherine's, I was surprised to find as many dresses on the floor as I did. Of course, being just after Easter, I'd expect that that their early Spring merchandise would still be on the floor. And when I saw the dress above, I figured that I had to try it on - even though the dress was a size larger than I normally wear. Luckily, the dress didn't fit right, and I was spared the decision of having to buy a dress I didn't need.
Before I go too far, if this dress was in a different fabric, I still might have bought the dress. It was comfortable and loose. but given the fabric, it was the type of garment that couldn't be dressed down to be casual enough for game night. And I already have too many dresses that would be appropriate for a more formal summer gathering - such as a casual outdoor wedding.
After I was done browsing at Catherine's, I went to The Avenue and did even more browsing. And there, I found a couple of dresses, had they been in my size, would have jumped in to my car with me for the ride to my closet. Again, I was lucky. Nothing there was either interesting, worth buying, or in my size.
Since it was now almost 9:30, I made my way home with a stop at the diner for a late dinner. Normally, I might not have mentioned this. But I had transferred the contents of my black handbag into a brown handbag for Easter Sunday services at the local church, and I had forgotten to transfer my reading glasses back to the black handbag for today's outing. So, I ended up squinting at the menu while deciding what I was going to eat. Unfortunately, I wish I had decided to go to a different diner. No, it's not because the food wasn't good. (I actually enjoyed the mixed vegetables for a change.) No, it's not because the service was bad. (It was slow, but not annoyingly so.) No, it's not because the food was overpriced. (It was slightly more expensive than what I get locally, but not unreasonably so.) It was simply because of the 6 teenage girls behind me that couldn't help but talk too loudly. And that's part of why I asked to take some of my meal home in a doggy bag instead of staying to finish my meal.
I had an enjoyable last night out as Marian, and will soon take the polish off my nails so that I can spend a day out with the Cat Lady tomorrow.