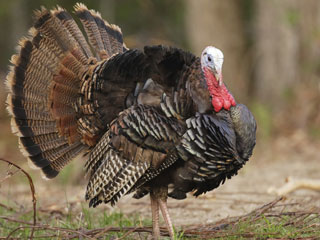 A wild turkey - the animal that Ben Franklin wanted to be America's national bird. It probably makes more sense than the Bald Eagle. It is highly doubtful that the turkey will ever be endangered any time soon....
- - - - - -
By the time you read this, we are well into the Christmas Shoplifting Season. Yes, I am a cynic. Thanksgiving is the day that many of us stuff ourselves silly before going out later in the day to buy a lot of things that we do not really need.
For me, the holiday is a way of reminding ourselves to be thankful for what we have, and not to worry much about the things we don't have - except if those things are food, clothes, shelter, family or friends. Almost everything else is not a need, but only a desire.
Hopefully, all of my readers had a wonderful holiday. And I intend to write about this day (and the others that follow) in later entries, as I have the time to write them....
- - - - - -
PS: If you decided to do any "Black Friday" shopping, then I hope you got a wild turkey to go with the insanity of the stores.