Leftover Turkey - Something many of us will be having well into the week after the holiday. As much as I enjoy turkey, I don't enjoy having as much of it as many of us do because of leftovers.
- - - - - -
On Thanksgiving, I intended to get out the door well before noon so that I could be at my brother's place early in the day. Well, things didn't turn out according to plan, due to not getting to sleep until late the night before. So, I ended up leaving the house around noon, forgetting the chocolate truffle cake I had in the refrigerator, and dashing off to Long Island. Strangely enough, I didn't encounter much traffic until I reached Long Island, and as expected, I bailed onto local streets to avoid traffic jams.
Once off the highways, I realized that I had forgotten to bring dessert, and I stopped at a French bakery in Bayside where I picked up a 12" Creme Brulee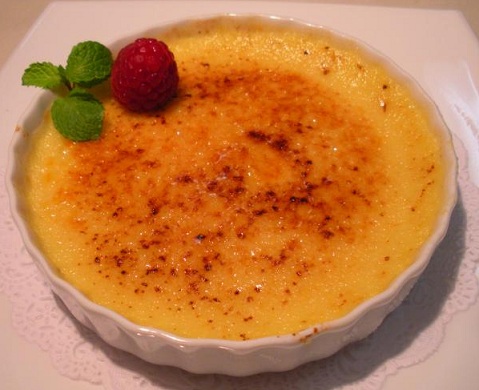 I have one word for this - YUM! But it cost me an arm and a leg, as the bakery sold the dessert along with the dish they cooked it in. (I can't blame them - the dish alone justified the high price.)
The drive to Long Island didn't take as much time as I expected. Even with the stop for dessert, the drive took me less than 2 hours. EZ-Pass is doing what it is meant to do, and I expect that cashless toll collecting will make things much easier next year. When I arrived at my brother's place, I took out the Creme Brulee, and my sister in law fawned over the dessert. This made me glad, as I knew that the forgotten chocolate truffle cake would not have gone over as well.
About a half hour after I arrived, we had dinner, and then packed off a small plate of leftovers for my dad in the nursing home. The food was still warm when we arrived at the nursing home, as it was only 10 minutes away from my brother's house. I'm glad we ate first, and I'm glad we got to the nursing home when we did. My dad was in between meals, and we got him while he still had a hunger for my sister in law's cooking. Once we were done feeding dad, we took him downstairs where we could talk without much interruption. And that's where I got pleasantly interrupted.
The nursing home has 3 floors. On the top two floors they have a central room dedicated to feeding the residents. Similar arrangements are made for the smaller number of residents on the first floor. Off to the side of the entrance is a seating area where we often bring my dad, so we can sit down and chat - without stealing chairs from other rooms. We brought dad down to this area, and started chatting over coffee. I was discussing the benefits of the Vanguard Funds and their low fees when one man broke into our conversation, making my point better than I could. He had up to date expense ratios on Vanguard's S&P 500 index fund, and they were better than I thought. My brother gained a new form of respect for my financial knowledge, and wanted more information.
Afterwards, we left dad at the nursing home, and my brother and I went over to the family homestead to discuss our next steps. I'm prepared for the need to throw a few extra dollars into the pot to get the house finished. But my brother is a little overextended at the moment. So he's going to be a little bit of a headache until we get the project done.
Soon, it was time to go, and I traveled back up North to meet GFJ at my apartment. Both of us were sated, and didn't want to think about anything more to eat....
- - - - - -
On Friday, we didn't have much to do. Although we took a drive late in the afternoon, there wasn't much to say about the day. Saturday was a day much like Friday, except that we ended up going to Best Buy, so that GFJ could buy a Roku box to get extra channels on her TV.
As you can guess, Sunday was much like the previous 2 days, save that GFJ had to go home. As much as I missed her, I was glad to have time to myself again. No, I didn't do anything with this time. But I did have the option to do so if I wanted - and this would include the opportunity of going out as Marian again.
This is my dilemma. I enjoy spending time with GFJ. And I enjoy spending time as Marian. There will be no easy solution to my dilemma, and only time will help me sort things out. The one thing I know is that I'm in this for the long haul, and that there will be many tough decisions I have to make in the future.