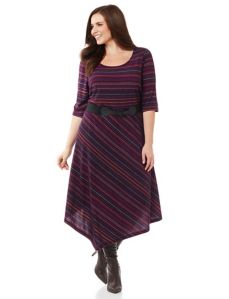 A dress. It's a basic staple of the average woman's wardrobe. And it is the one garment that advertises that the person wearing it is a woman and not a man. As you can guess, I love dresses and try to wear them whenever I can.
My plans for the day when I got up were:
Send out job applications
Visit RO, a woman I met once in 2014 and go on a shopping expedition.
(Optional) See WDJ for a quick bite to eat.
I got around to the first two on the list, but didn't get back on the road early enough to take care of number three.
- - - - - -
Sometimes, it seems like I'm never going to find work. But until I see things that look like I have a shot at doing the posted job well, I will be filling out applications only to maintain my eligibility to collect unemployment insurance. Please do not read much into this. I didn't have much hope when I applied for my last job. But I probably would have done better on the job had I not been distracted by my dad's illness, exhausted from work on the family homestead, and sleep deprived due to the long commute. In the end, I didn't achieve what was expected of me, and I am a little gun shy because of it.
GFJ had to drive her son to the airport at 4:00 am, and then get back home by 9:00 am in order to open up her office. If I had thought more, I'd have told her to call me at 7:30 am, so that she could stay awake chatting with me on her ride back up North. Instead, I let the alarm wake me at 8:00 am, and hopped into the shower by 10:30 am.When I was in the shower, I noticed that water pressure dropped to a third of its prior level. I made sure to rinse off quickly, and get dressed. It seems like there was a water main problem up the hill from me, and was affecting everyone on the hill on which I live. (More later....)
- - - - - -
I called GFJ on my way down to RO's place and found out how busy things were at the office and how tired she was. Thankfully, she got a call while I was halfway to Long Island, so I didn't have to say much when I didn't want to say anything.
As much as I'd love to date someone who accepts me as Marian, I also believe that one leaves the dance with the gal that one came with. Because of this, I wasn't going to start anything with RO that I couldn't finish. Instead, I'd use this shopping expedition as an opportunity to develop a friendship with someone who accepts me in Marian mode, so that I have one more person on my list of friends who know me as Marian.
When I arrived at RO's place, I parked my car, and we went over to The Avenue - this outlet being about a mile from the family homestead. RO bought several garments there, and I tried on a LBD that I passed on. The LBD looked great on me, but I didn't need any more LBD's in my closet.
Our next stop was Catherine's in Carle Place. Here is where I found another dress that looked great on me (see photo at the top of this entry), and was strongly temped to buy it. Hemming and hawing, I decided to let the dress pass. RO offered to subsidize my dress purchase, and I still said no. I explained that if I really want it, I'll go to another Catherine's and buy the dress. (The way it looks, I'll probably do so, but will spend a few dollars more in the process.) RO bought a pretty bra (one I own, and love), and then it was off to the diner for lunch.
After lunch, we went to Kohl's, where RO completed her shopping expedition. I figure that she must have spent $200+ on clothes, but it was well worth it. RO has lost a lot of weight via diet and exercise, and needs enough clothes to transition to a smaller body as she shrinks to a more healthy body.
- - - - - -
While out, Pat called and said that she was available. So instead of seeing WDJ (something I wanted to do very much), I saw Pat. (I couldn't reach WDJ, and I'm not sure if she'd have been available for dinner at 9:00 pm.) Pat and I talked for a long while, and we tried to research a lover of hers who we think is "playing" her. This fellow has an abnormally low number of cookie crumbs on the internet, and we found out that his professional id is different from his legal id. Hopefully, Pat will ditch this fellow before she gets burnt by him.
The more I'm over at Pat's, the more she sees me naturally adopting feminine poses and body language. Tonight, she made a special effort to capture the picture below, as it shows how far I've progressed in my femininity:
What do you think?
- - - - - -
Eventually, I left for home, and chatted with GFJ on the way to the co-op. She was overtired, and I'm glad she had a short ride to get home. As for me, when I arrived home, I found that my apartment had no water. The water main break that happened at 10:00 am was still being worked on after midnight. Hopefully, I'll be able to take a nice shower in the morning.