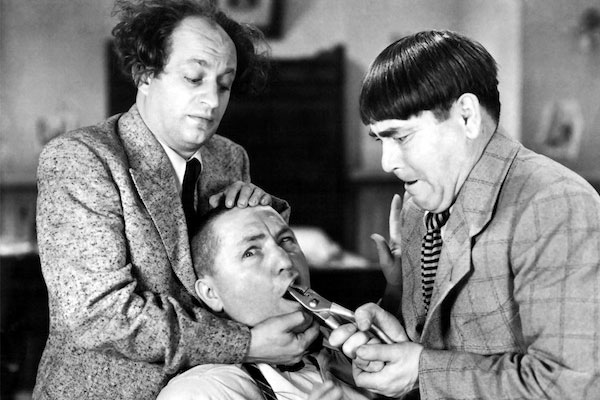 Moe, Larry, and Curly - three characters who couldn't do anything right. Thankfully, I go to a dentist who does....
I had scheduled this visit over a month ago, so that I'd be covered by some form of dental insurance when making this visit. There was an area near a crowned tooth that the dentist wanted to look at, but I didn't want to risk covering the cost doing an X-Ray, then filling a cavity and getting a new crown until my new insurance was in effect.
Luckily, I had the freedom to leave work a little early today - and I got home about a half hour before the appointment. So I took care of a minor chore, then visited the dentist. After a couple of X-Rays, I found out that no dental work was needed. (I was expecting to be told about a filling and crown replacement that would set me back about $2,000.) Even better, the dental insurance I get from my new job is the ONLY one that my dentist accepts (in network). So I might just get this visit for free, if not only for the $36 for the X-Ray.
Why do I mention a simple dentist appointment? A couple of the women who work there know about my Marian persona, and have been looking forward to me coming in on Halloween one year. This might just be the year, if I can time everything right. But again, I might just chicken out....