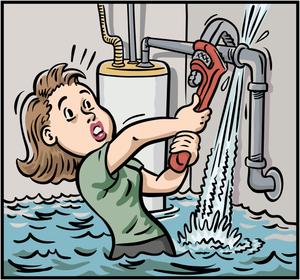 I finally made my connection with the handyman to fix the leak under my sink. Although I was not going to be home until 8:00 pm or so, he said "not to worry", as he was working on another apartment at the time.
What I totally forgot about was that this same handyman installed the pipe that needed to be fixed. So when he came over, he mentioned that this was the same pipe that he installed, proceeded to tighten the connection, and stopped the leak. Even better, he didn't want any money for fixing the problem. Of course, I handed him a couple of double sawbucks as my way to say thanks for 15 minutes of his time that saved me $200.
- - - - - -
You might be asking - "What does this have to do about me being transgender?"
Well, my handyman has seen me in both male and female modes, and has not passed judgement. What he may be thinking to himself is one thing, but he has the taste to keep any negativity to himself. His availability at night has made it possible for me to be able to change into Marian Mode tomorrow night without being delayed by his work on the drain pipel
- - - - - -
Now, continuing in reverse order for the day.....
At work, I started filing paperwork for work that needs to be done for one of our clients. This is not hard work, but it forces me to learn things about the system by actually having to answer questions about the setup - and handing that information over to the people who will actually do the setup work for me.
Even though I often feel a little overwhelmed and helpless, I feel that this is normal for a person who knows that he/she is a rookie at his/her new craft, and is afraid of making stupid errors that are part of the normal learning process. My boss has told us that we will soon be learning our jobs by intensive doing, as a couple of clients have turned on the spigots for work that needs to be done.
- - - - - -
So why did I report things in reverse today?
Sometimes, I start my writing in search of a theme. And today's theme was that of things that take their time. Fixing a leak takes time. Learning a new job takes time. And getting to work takes time. Slowly, a leak can fill up any pot one puts under a sink. Slowly, the skills needed to do a job are learned. And slowly, my long commute gets me to and from work, taking up a good chunk of my waking hours. Life simply seems to be a slow drip these days, where little happens each day, but over time, change occurs.....