I haven't been in this room for years. When I met my ex girlfriend (Ex-GF-M) years ago, one couldn't even enter this room, as it had become a dumping ground for anything and everything. Yet, I'll give her credit, as she did clean up the room a bit so that both the TV in the other unseen corner and the chair I sat on when taking this picture were both accessible when I was dating her. But my memories of her will always tell me one thing - life can be messy and disorganized, like the kitchen below:
Could you imagine trying to get anywhere a stove in this place? Yet, she was doing so for every meal consumed at home during the week. But I'm not out to rag on this lady. She's out of my life, and I learned a big lesson from being with her.
- - - - - -
A potential problem exists between me and GFJ - and it is the collection of ties that still bind GFJ and her "Wasband" together. Recently, she had a problem with the water system in her house. Instead of calling an independent plumber to fix the problem, she ended up calling her to-be ex for help. (I can't blame her for this - he installs systems like this in other houses and commercial establishments, and his labor is dirt cheap.) Sadly, until these ties are totally severed, I expect that GFJ will not be totally free to open herself up to anyone. This doesn't mean that we're on a verge of a breakup. Instead, it only indicates my prudence in not investing all of my heart in her until she is totally free.
- - - - - -
The first time I went to NPW after being given the verbal job offer, I made sure that I had extra time to spend there. Although we didn't get a lot done, it was important that I was there to help them with a handover of the system to their care. (I intend to have a role in helping them after I begin work. But it will be very different than the role I have now.) It was good to hear NPWJ say that if I had found work 6 weeks ago, that she'd be totally lost with the new system. Now, she feels very comfortable in her ability to maintain what she has. In short, I did a good job of getting her basic needs met - and it's something I can be proud of.
Contrast this with the GLBT Center. Although I am well liked, I feel like I've accomplished virtually nothing there. I'm glad that I do not include this place on my resume for much of anything. However, I have gotten much from the place. I gained greater confidence in my female presentation, and have learned how to break out of my shell. Not being expected to have a perfect presentation freed me to be relaxed when presenting as a female, which served to make my presentation much more effective.
- - - - - -
WGM has moved all her stuff to her mom's home in Connecticut, and she has been released from her lease several months early. I miss seeing her at Thursday game nights, but we will try to get together at least once before I start work. Assuming that I have to drive to Connecticut, I may end up driving to a boutique that sells mastectomy swimsuits on the way there. I figure that I will always be able to use this swimsuit on any cruise that I take with Lili (or female friend other than GFJ).
- - - - - -
Soon, I will have to do my taxes. This year, will be a strange year for me, as I will have five months of the year where I was paid my old yearly salary and 6 months where I received my pension, at roughly 30% of that salary. Will I be over or under withheld? And next year will be just as strange in the same way, as I will have a full salary (god willing) coming in for ten months, while I have my pension coming in for the full year.
What's most interesting about everything tax related is a form I received for the first time - a tax form related to Obamacare, stating the months for which I had insurance coverage. I knew that would be part of the law, but I never expected a new form to be filed. It's not a big deal, but it is something that I have to remember from now on.
- - - - - -
Thinking about Obamacare, GFJ was told at year end that she had to find a new insurance provider, as the old provider wouldn't be servicing organizations like her and her "wasband's" (sole proprietor businesses) any longer. Her problem - she had no time to take care of buying this insurance after receiving this notification on December 15th, in order to have coverage in force on January 1st. I wonder what will happen next year at tax time for her. But she is saving enough money on Obamacare with the subsidies, that she can afford to pay some of the other bills that have piled up. This is one of those times that I'm very glad that I live in a "Blue State". Yes, we have some of the highest taxes in the nation. But it is because of these taxes we can pay for needed things like adequate medical care. (Your mileage will vary.)
- - - - - -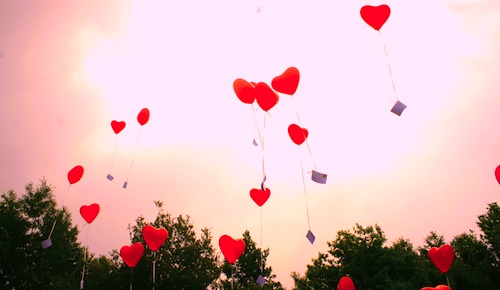 When I went to Pat's place the other night, we talked about many things. I mentioned that GFJ said that I should be proud of what I did to develop my Marian persona. And Pat responded - GFJ may be in love with me. Even if true, neither of us have mentioned that word directly to each other, although we have joked around it a little bit. Since (at the time I started writing this entry) Valentine's day is coming up soon, I wonder whether either of us will break down and say a certain three word sentence first....
- - - - - -
Pat and I have done some volunteer work for the GLBT center. I left the center under my own terms, in a very respectable way - I found a job. Pat volunteers when she feels like it, and the center always appreciates what she does for them. However, Kelly was recently told to find other things to do with her life. (It was put differently, but the meaning is the same.) She took it hard, not understanding what was happening. Kelly thought that her efforts on maintaining the "events slide show" would be enough for the center to want to keep her around. But this was not enough to keep the center from firing her as a volunteer - Kelly was disruptive, she needed to talk while others needed to get things done. (I was very glad that the director of the center clued Fran into what was going on, so that Fran could respond accordingly.)
The one thing I wish I could have done before I left the center was to get the center onto a new contact management system. That's no longer my concern, but I wish them well whenever they get around to dealing with this task. I was able to accomplish this with NPW, and I know that this accomplishment was worth the effort I spent on this project....