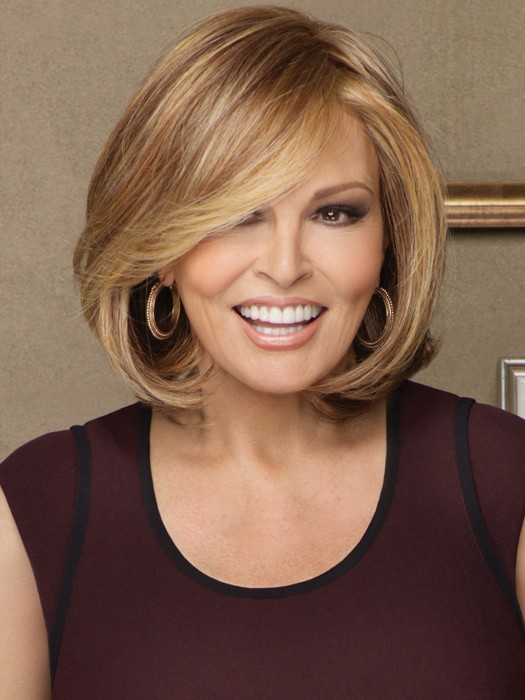 This is the wig I bought - but in a different shade than what I'm wearing. It's a nice wig, but it doesn't frame my face as well as it does on this model.... This could be me styling it wrong - so I'll give it some time to grow on me.
Comparing the feel of this wig to the wig I've been wearing for most of the past year, I'm pleasantly surprised how comfortable a properly sized wig can feel. This is one of the reasons why I suggest buying at least one wig from a good wig store - you can find out your size, see wig hair color samples before you buy, and get information on how to care for your wig, saving you money in the long term.
I decided to spend precious money (now that I'm unemployed) on one of the more expensive wigs sold under this brand name. I wanted a good wig, and I've noticed the little details that make this wig a pleasure to wear - such as the feel of the hair, as it is soft and natural. If I grow to love this wig, I know I can order it again - and save even more money by buying it online.
Most of us transgendered folk do not have as much spare cash lying around as I did. So I suggest taking a page out of Molloy's "Dress for Success" book, and examine the look and feel of the best wigs in the shop - and then look for lower priced wigs that have as many of the features of the more expensive wigs as possible.
Kathleen notes in her blog, that a good hairstyle can save you thousands of dollars you might spend on Facial Feminization Surgery (FFS). I agree with her for the most part. Put the right wig on my head, and my face instantly looks feminine. Now if only I could find a good and honest hairdresser who could style my wigs.
One of the most important things us transgendered folk can have is confidence. If there are minor flaws in our presentation, it is easy for others to ignore them if we are confident. If we aren't, no degree of perfection can help.
But enough for tonight.... It's time for a tune - another cover by a great singer.
Dusty Springfield - You Don't Own Me